Music in da haus
Some of the fun things one can do in haus der Musik include:
"Composing" one's own Waltz by tossing dices (me and the less enthusiastic Kasia)
Watching (and of course listening to) the New Year's Concert by Wiener Philharmoniker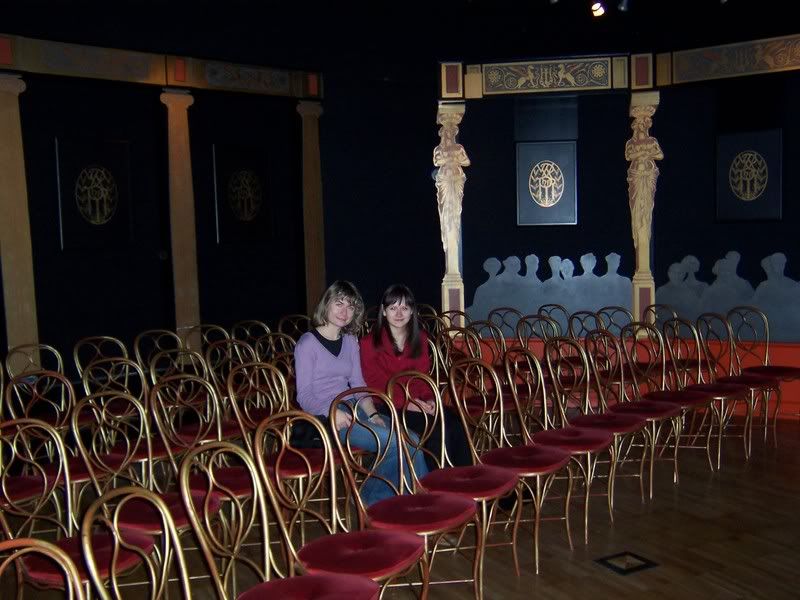 Listening to various other sounds (odd as well as very common).
Now "CONDUCTING" was the best part! I'm not posing for the photo but I'm really trying to make those guys on the screen play Eine Kleine Nachtmusik... (I was not very successfull, though, and the Orchestramen started complaining after a minute :-P )
(Ok, there is much more to see there but I don't want to get to all the more typical museum stuff.)
it now came to my mind I might have liked the place so much simply because i had a bad day yesterday.... Neee, the place really IS fun! :-D
The sad thing is that going back to reality is not that pleasant :-P There's much work to be done! Ok, dear books, here I come, despite the late hour...
I have not been to Albertina and Kunsthistorisches Museum yet. I'm not planning to go to Schonbrunn, as I've heard the Emperor Apartments in Hofburg are more interesting. I've only been to Volksoper but not to the bigger Staatsoper... Generally then, I have not visited the most popular, most famous places in Vienna yet. BUT, much as I reeeeally am a Museum animal, I do not feel sorry for that, as there is still some time for me AND today I've been to a MY BEST "MUSEUM" ever! Dori, do you remember how I liked the Cheaster Beatty Library in Dublin and said it was the best "museum" I had seen? Well, HAUS DER MUSIK took the first place now :-) INTERACTIVE MUSEUMS ruuuuuuuuule! I was there with Kasia for more than 5 hours and we didn't need a break in the meantime. Initially there were 2 Kasias with me but the second one lost interest after 2 hours. I mean, I have spend even more time in a museum but I always needed a break as my ability to appreciate the things I was looking at diminished with time, no matter how great/famous the exhibits were. This time it was all different because it was not visual art but an aural experience first of all...